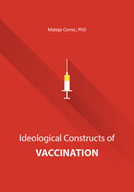 Review of the book Ideological constructs of vaccination by Kris Gaublomme, MD, chair of the European Forum for Vaccine Vigilance
"Although written with a swift pen, this book cuts deep into the myths surrounding alleged vaccine safety and efficacy. Mateja Cernic builds her case with arguments that are solid as a rock, and with figures that are completely verifiable. On top of offering a treasure of information on the risks and adverse effects of vaccination as such, her book offers a lot of insight into the mechanisms behind them. Quite unique is the way she explains the sociological mechanisms that allow blatant lies to persist as the basis for official guidelines on vaccination, and allow governments and official health organisations to continue a policy which threatens public health and, in its effect, I consider nothing short of criminal. Probably the most comprehensive and up to date book on the issue today. A must read for everyone, lay or professional, who has the courage to be confronted with the tragic story of vaccination and it's devastating effect upon our society". 
Kris Gaublomme, MD is a general medical practitioner and homeopath from Belgium. He has been the chair of the "Preventie vaccinatieschade" ("Vaccine damage prevention") since 1989 and the chair of the European Forum for Vaccine Vigilance since 2012.